If you think you could provide safe and quality service to our customers then we'd love to have you on our team!
We are always seeking single and team drivers. We can provide the trailer or you can use your own. You won't find a company that pays better working on a percentage scale.
We also offer drivers a choice of fuel cards, health benefits as well as the destination and loads you want to carry. We offer all new equipment, cell phones, as well as safety bonuses. Aside from trained drivers, our company also has opportunities for highly motivated, well spoken individuals for office positions (dispatchers, receptionists, safety monitors etc …)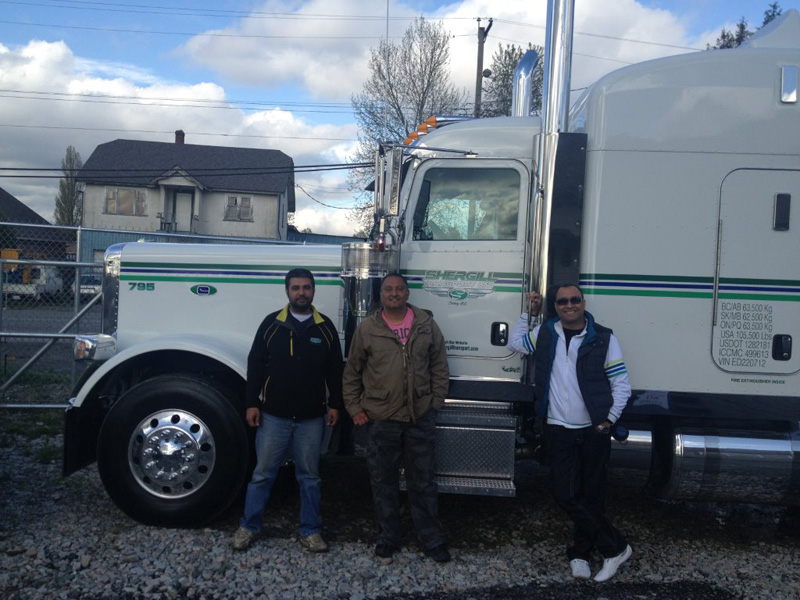 Owner Operators
We always seeking dependable owner-operators who are interested in building successful careers. We need your experience and your equipment to move our freight.
At Shergill Transport we are looking for owner-operators who offer flatbed, step deck, reefer or dryvan control services. With the best safety and compliance record and the lowest claim and occurrence rate in the industry, we are proud to offer our owner operators consistent freight and a wide variety of commodities to haul.
Some of the benefits of working with Shergill Transport are:
Treated like family
No forced dispatch
First-in-first choice freight opportunities
Prompt settlements
Best mileage for Dry Vans (B.C & Alberta)
Best mileage for Team Drivers (California / New Hampshire / Maryland)
Best percentage for Flatbed, Super-B and Triaxle (B.C , Alberta , Saskatchewan, Manitoba, Ontario & Quebec)
Best percentage for Flatbed Tandem Ohio Lanes
Company Drivers
1-2 years experience with Super B, Flat bed, Van
Run 48 states in USA and Canada
Long Haul Truck Driver, with Class 1 or A, Air Brake (Z), endorsement. (Canada & U.S.)
Driver with clean abstract
Must be drug free
Receive and relay information to central dispatcher
Perform preventive maintenance
Driver logbook, Bill of Lading, inspection (pre-trip, en-route, post-trip), trans-border documentation
Paid by the mile, plus remuneration per pick and drop OR average $23 per hour
Click here to download application Or give us a call and we can discuss your future position on the Shergill Transport team.